The SilverLine Utility Shed
Maximizing storage and price. The Best Value you'll find in the Upstate!
While speaking with many of our customers, it became clear that there was a hole in the industry which no one was filling. We needed a new line of buildings. Something different.  A durable, affordable storage solution that could fit into everyone's budget and look beautiful as well.
The Drawing Board
Back to the drawing board we went with a singular focus on finding the perfect marriage between durability, affordability, and beauty. The design we put together was better that we could have imagined and priced to fit even the most discriminating budget. We are hereby immensely proud to introduce the SilverLine; the ultimate value in a utility building.
The SilverLine Difference
It doesn't matter how well you build a shed, it is only as strong as the floor it is built on so one non negotiable in our design was that it had to be built using our unsurpassed, interlocking floor system.  We decided from there that we would use 40 Year 29-gauge steel for the roof and the sides. These steel panels are fastened to an integrated wall and truss system which is interlocked by a network of full 2×4 purlins to support the roof.
Ultimately, the SilverLine is a building that is lightweight and extraordinarily strong. This shed is as at home in a suburban back yard as it is on the farm. It is a building that is designed to be used. We steepened the roof pitch and install the steel panels on the roof vertically to improve runoff.  Yes, it takes us a little longer to build it that way but it creates a stronger building that is much less susceptible to leaks and one that we are confident standing behind with our 5 Year Workmanship Warranty.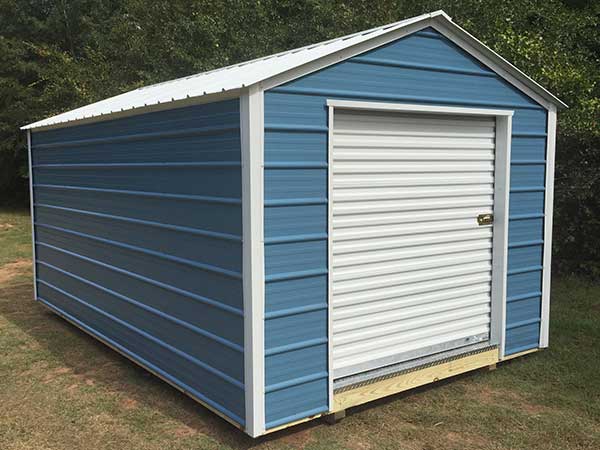 The SilverLine is available in a full variety of colors and sizes, and some of our most popular options.
If you need an outbuilding this is the place to go! Very nice experience. Very professional and had my building delivered in a very timely manor. Fully set my building up, even double checking to make sure it was level. Highly recommend this company!

Diamond Plate threshold to protect the flooring by the door

2×6 joists notched into 4×6 runners to keep your building square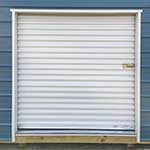 6×6 Rollup to give you huge access for storing furniture or lawn and garden equipment.
– The standard 6×6 Rollup door is the exclusive door option available for the SilverLine
– Spice up your brand new building by adding one or all of the specialty options below!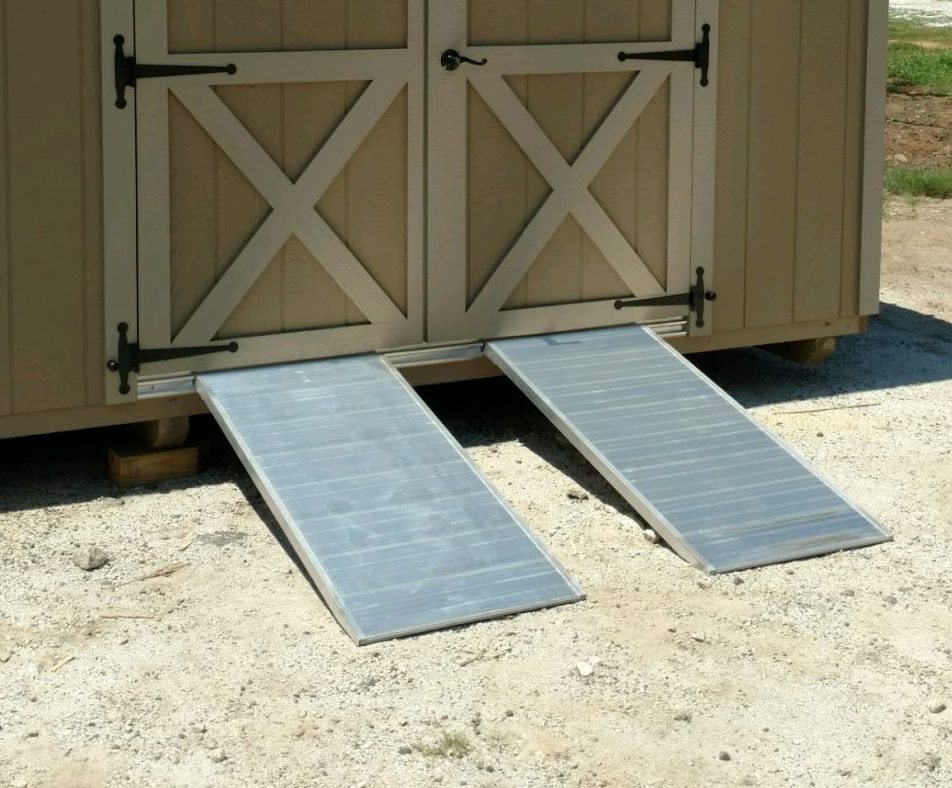 NEW! Removable Ramp Planks
Available in Sets of Two
Treated – Starting at $145
Aluminium – Starting at $295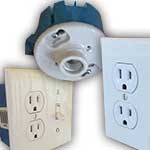 Electrical - $450
Includes a 100 Amp panel box, two lights, three outlets, and a switch to help light up your shed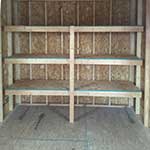 Shelves - $15/ft
Be the KING of storage! Triple shelves help you make efficient use of your space.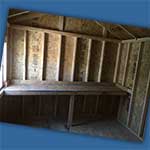 Workbench - $8.50/ft
Turn it into a real hobby room by adding aworkbench on any wall