Quality. Value. Beauty. Performance.
Headsup!
We have made changes to our models and the Elite Model shed has been withdrawn from our current lineup and is in full redesign with an exciting future style and option transformation! As part of this transition, we have upgraded the Pro Model to some of the standard features of the Elite and a ton more options for upgrading your flooring, overhangs, etc. Please visit the Pro Model Page for more details!
Both beautiful and functional, the Elite Series is the bedrock upon which we have built our reputation!
Not only the cornerstone of our lineup, the Elite Series is the benchmark of the portable building industry.  Have you ever wondered why so many storage buildings are just plain ugly to look at? We think it stems from the concept some folks have that "It's just a shed" and that the aesthetics don't really matter. Not at Willow Lake! We have designed these buildings to be as attractive as they are durable and functional and, we may be biased, but we think we have the prettiest buildings in the industry!
The Elite Difference
The Elite Series features double 2×4 wall plating and studs placed every 16″ along each wall.  We use extra-large gate hinges on every Elite building door, along with adjustable anti-warp tensioners, to ensure your doors will last for years with no warping issues. For security, we install heavy duty solid steel door handles and a special heavy duty spring loaded barrel bolt is installed to secure the passive door. This makes opening and closing them a snap. The barrel bolt locks up and out of the way while the doors are open, and when you need to close them again, the spring snaps the bolt back into place with little effort.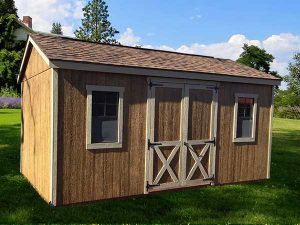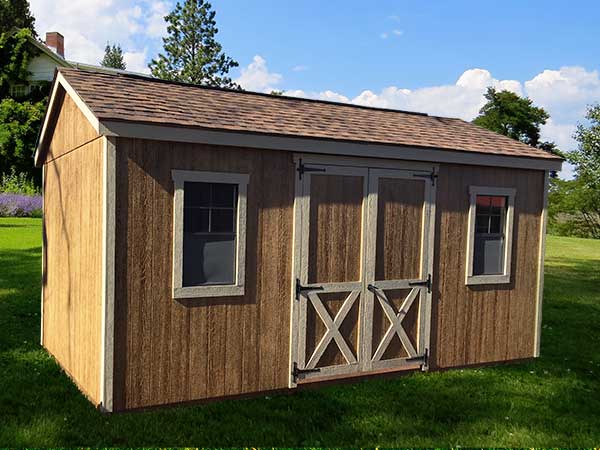 It's this kind of attention to detail that makes Willow Lake Buildings stand out among its peers. Details like installing full length continuous vents all along the eaves and along the ridge to keep your building 15° cooler in the heat of summer. We care about the details because we care about you.
Thank you for being so professional! We shopped six other locations after we left your office and, the way they acted, it was like they didn't care if we bought a building or not.
Lofted or Utility? Check them out here!
The LP Smartside Difference
For years, the standard siding on nearly all portable sheds was pressure treated T1-11 plywood. If you've ever owned one, you probably already know the drawbacks that come with this product. Having to restain your building every two years just to keep it looking 'nice' is not what you want when you spend your hard earned money on a storage shed.
When treated T1-11 is created, the material is submerged into a large dip tank filled with solution and is then subjected to high pressure. This works fine on natural wood products, but used with T1-11 plywood, the pressure forces the treatment solution into the grooves and weakens the lamination of the plywood. Shops that use these products return many sheets of siding to the manufacturer because they've already de-laminated by the time they arrive at the factory. Many more continue to de-laminate in hundreds of back yards across the upstate.
This is one of the reasons that we only use LP's SmartSide siding. It is an engineered wood par excellence. A solid-state siding made of real wood strands and the toughest resins and polymers formed under tremendous pressure. No repainting or restaining to keep your building looking beautiful. No warping of the trim around your doors and windows. No termites drilling through the wood and ruining your shed.
Best of all, it comes with a 50 Year Warranty to back it up.
Pair that with our top of the line commercial grade paint and you have a shed that will look as beautiful in 10 years as it does right now!
Questions? Don't hesitate to contact us today!